9/3/2020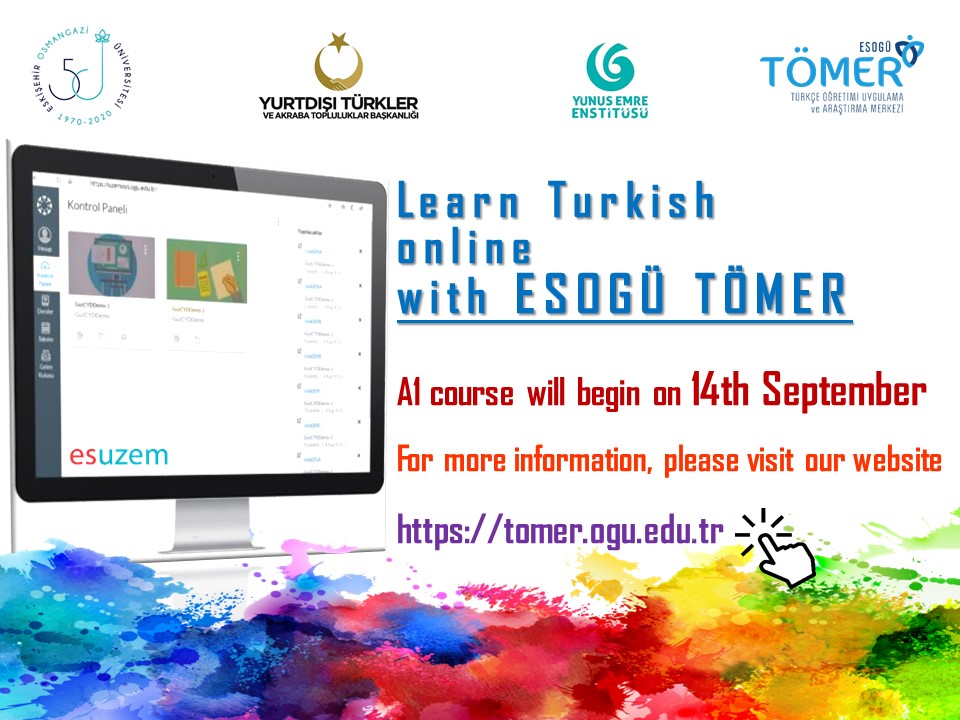 AÇIKLAMALAR / DESCRIPTIONS
Canlı dersler https://uzemoys.ogu.edu.tr/login/canvas üzerinden yapılacaktır. Dersler için Google chrome kullanılmalıdır. Ödeme yaptıktan sonra sisteme kaydedileceksiniz.
Live lessons will be held on https://uzemoys.ogu.edu.tr/login/canvas. After paying, you will be registered in the system. For lessons you should use Google chrome.
Yapılan dersler kurs sonuna kadar sistemde kayıtlı kalır ve istediğiniz zaman izleyebilirsiniz.
The lessons are saved in the system until the end of the course and you can watch them whenever you want.
Çevrimiçi A1 dersleri 14 Eylül'de başlayacak ve 3 Kasım'da bitecektir. Online sınav 4 Kasım'da yapılacaktır. Sınav okuma, dinleme, yazma, konuşma aşamalarından oluşmaktadır.
Online A1 classes will begin on 14th September and end on 3rd November. The online exam will be held on November 4th. The exam consists of reading, listening, writing and speaking stages.
Eğer online A1 kursuna katılmak istiyorsanız kur ücretini aşağıdaki hesaba yatırınız.
If you want to join the online A1 course, pay the A1 course fee into the account number below.
Kur Ücretleri/Course Fees
A1 (180 ders saati) = 2.700 TL / A1 (180 lesson hrs) = 2.700 TL
A2 (180 ders saati) = 2.700 TL / A2 (180 lesson hrs) = 2.700 TL
B1 (180 ders saati) = 2.700 TL / B1 (180 lesson hrs) = 2.700 TL
B2 (180 ders saati) = 2.700 TL / B2 (180 lesson hrs) = 2.700 TL
C1 (240 ders saati) = 3.600 TL / C1 (240 lesson hrs) = 3.600 TL
Banka: T.C. Ziraat Bankası Eskişehir Şubesi/Bank: T.C. Ziraat Bank Eskişehir Branch Office
IBAN: TR30 0001 0001 1740 0130 7660 61
Dikkat: Adınızı, soyadınızı, kurs adını (A1, A2, B1 gibi) açıklama kısmına yazdırınız. Banka görevlisini bu konuda uyarınız.
Attention: Statements of name, surname and course name (A1, A2, B1 etc.) should be written on receipt. Please advise the bank officer.
Covid-19 salgınına göre dersler ileride tekrar yüz yüze olacaktır.
According to the Covid-19 pandemic prosess, the lessons will be face to face again in the future.
Ödeme yapıldıktan sonra tomer@ogu.edu.tr üzerinden bilgi verilmelidir. Pasaportunuzun kopyasını, ödeme makbuzunu, fotoğrafınızı, başvuru formunuzu e-posta ile göndermelisiniz.
After the payment, information should be given via tomer@ogu.edu.tr. You must send the copy of your passport, payment receipt, photo, application form by e-mail.
Başvuru formu için tıklayınız.
Click for the application form.
Türkiye'de bulunan öğrencilere kurs kitapları kargo ile gönderilecektir. Kargo ücretini öğrenci ödemektedir. Yurt dışında olan öğrencilere ise kitaplar pdf olarak gönderilecektir.
Course books will be sent by Cargo to students in Turkey. The student pays the shipping fee. Books will be sent as pdf to students in abroad.
Sorularınız için bize mesaj gönderebilirsiniz.
You can send us a message for your questions.
ESOGÜ TÖMER
Last Updated At: 9/3/2020